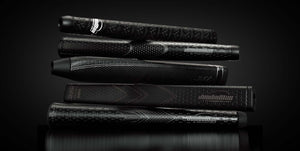 OUR BEST SALE OF THE YEAR

TAKE 15% OFF

USE CODE: JUMBO15
YOU'RE FOCUSED ON THE WRONG END
Golfers are always on the lookout for the best new golf clubs. But when it comes to golf grips, most golfers are still using the grips they played 5, 10, or even 15 years ago.
And that's because golf grips have remained essentially unchanged over the years. JumboMax® grips are different… first and foremost because they're bigger.
Our claim is simple. Once you try JumboMax, you'll never go back to "skinny grips."
BE A GOLF SCIENTIST
We didn't invent the golf grip. That happened hundreds of years ago when a Scotsman was hitting wood balls around a field with a hickory stick and thought, "I should wrap some sheepskin around the end of this stick so I don't get splinters." And viola! The standard grip size was created.
OK, we're not sure it went down EXACTLY like that. But seriously, what else could have happened? As golfers, we've been stuck on the same size grip for 500 years, and that makes ZERO sense. The tools in your garage have big grips. Your tennis racquet and baseball bat have big grips, too.
With a bigger grip, you'll get more surface contact, which means more control and more power. You wouldn't want a skinny grip on your screwdriver or hammer or tennis racquet, would you? It's ergonomics.
MASSIVELY LIGHT
JumboMax swing grips are helping tour players, long-drive champions, and even top-ranked junior golfers get longer and straighter. They will help YOU, too.
Our JMX Zen Lite and JMX UltraLite swing grips are actually 10-25% lighter than skinny grips. Because they're LIGHTER and BIGGER, they help golfers increase their speed, improve their consistency, and feel radically comfortable over the ball.
YOUR GRIP FITTING STARTS WITH YOUR GLOVE SIZE
Our hands are different sizes. Our gloves are different sizes, too. Doesn't it make sense that our grips should be different sizes? At JumboMax, we make swing grips and putter grips in different sizes so that all golfers can play the right grip for them: from standard all the way to XL.
So which JumboMax grip is best for you? Use our online Grip Fitting tool to find your size.
BIGGER IS BETTER FOR EVERYONE
There's been a problem with oversize swing grips over the years, and it's that they haven't been created for better players. We're changing that.
Every grip we make at JumboMax is designed to meet the standards of the best players in the world. So if you have a 130 mph swing speed like Bryson DeChambeau, a proud user of our grips, our grips will be able to handle that speed and all the bad weather he faces on the PGA Tour.
And if you have an issue like arthritis, you're going to benefit from the increased size and shock-absorption JumboMax grips offer.