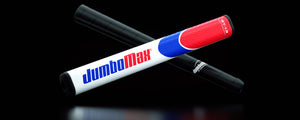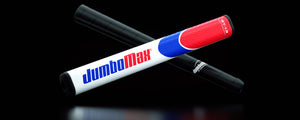 FREQUENTLY ASKED QUESTIONS
Absolutely! The USGA has ruled that our oversized grips conform to USGA rules for golf equipment and are 100% legal in all tournaments, long drive, and sanctioned events.
The best and easiest way is to use our Online Grip Fitting Tool.
A LITTLE MORE INFORMATION
JumboMax Wrap Series™ and UltraLite™ grips are available in 6 sizes: from Standard Jumbo through X-Large. 
Tour Series™ grips are available in 8 sizes: from Standard through X-Large.
If you are unsure about your grip size, please contact us. Any unused grips can be returned for full credit toward another size or refund.
Most other companies make a "jumbo" grip that is about +1/16. We offer 8 sizes starting with Standard and going all the way up to X-Large (+3/8).
Standard: +0 inches
Standard Oversize: +1/16 inches
Standard Jumbo: +1/8
X-Small: +3/16 inches
Small: +1/4 inches
Medium: +5/16 inches
Large: +11/32 inches
X-Large: +3/8 inches
That's a myth that is currently being disproven by the longest hitter on the PGA Tour, Bryson DeChambeau. 
Many people, including golf professionals, are taught that a larger grip will cause golfers to push or fade the ball. They tell us this all the time when they approach us at a demo day. We simply say, "Try them." After hitting a few shots, they are surprised by how comfortable they feel and how well they perform.
Our extensive testing confirms golfers using JumboMax Grips hit longer, straighter shots. This is because JumboMax Golf Grips are engineered to fit the hands much more comfortably, allowing the hands to work more efficiently. 
The larger diameter of JumboMax grips also increases surface contact, which allows golfers to use light grip pressure and more easily square the clubface at impact.
All grips wear over time and need to be replaced, but since there is less friction with JumboMax grips, they will outlast most skinny grips. 
Many people also find that with JumboMax they can play without a glove and enjoy the added feel around the greens.
Most definitely not. Golfers of all levels are using and having great results JumboMax Grips, including PGA Tour players. 
We have many other high-level players using our swing grips and putter grips, including rising stars in amateur and college golf. With JumboMax, golfers can really go after their shots without fear of a big miss. You'll understand why once you try them.
Switching from a skinny grip to a JumboMax grip can affect swing weight depending on which grip model and which grip size is being used. But more often than not, the change in swing weight is inconsequential to performance, and when it is, swing weight can easily be adjusted to where a golfer prefers it. 
Say you've got this driver that you really like. The swing weight is just perfect for you. You want to replace the skinny grip with a JumboMax grip like a Tour Series, which is heavier than most skinny grips.  
So the fitter first measures the swing weight of the club to be D4. The JumboMax Tour Series is installed and the club now measures at a D1 swing weight. 
To restore the D4 swing weight, the fitter applies lead tape to the bottom of the driver head. You go out to the range and find that the club just doesn't feel right. What happened? 


Switching to a JumboMax appeared to lower the swing weight of the club by three units, according to the swing-weight scale. But that reading is false due to the fact that the change in mass occurred within the 14-inch pivot point. i.e., the scale saw the entire weight of the grip to lie on the butt end of the pivot point. But that's not where your hands actually rotate.
On the driving range, only about half of the mass of a JumboMax grip resides above your pivot point and almost as much of the grip's mass actually rests below your pivot point, almost fully canceling out an increase in swing weight. 
In other words, switching from a skinny grip to a JumboMax doesn't really change the "feel" of a club during a swing. Yet, the swing weight scale suggests that the change does have an effect.

 
Fortunately, there is no permanent damage. Most or all of the lead tape can be removed and the club's "feel" is restored to normal even though the swing weight is now D1 and not D4!
We should note that this is likely a non-issue with our UltraLite grips, which are the same weight or possibly a little lighter than most skinny grips.